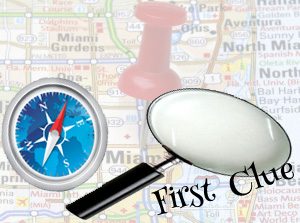 Road Trip Through Redland History
Saturday, April 28, 2018
Historic Hunt: 2:00-4:00 pm
BBQ Dinner and Awards: 4:00-6:00 pm
Woman's Club of Homestead
17905 SW 292 Street
Point your compass south on Saturday, April 28 for a road trip to the Redland! 
All roads (well, at least the turnpike) lead to the Woman's Club of Homestead, where you will check in by 2:00 pm, meet your team members, receive your clues and be off! 
Hunters will return to the nest (The Woman's Club) practically petered out and primed for a grand old-fashioned bbq catered by the good people at Whisk Gourmet! All this history and hilarity is yours for $35 per person!
  If you'll be joining us for the bbq only (same ticket price of $35), plan to arrive between 4:00 and 5:00 pm. We will have some wine and cheese while the teams roll in.
Respond Please
New to the hunt and stressing about your lack of knowledge of the area?* No worries! Put your noggin together with a more experienced hunter. It's a poorly kept secret that additional points will be awarded to the team that has the most new members!  Click here to add your name to a team or start a new team. Simply close your toolbar tab when finished. The document will save your information automatically. You may have up to six people on your team, but teams of fewer members are fine too! 
Pay Please
Click here to pay online. Note: there will be a $2 shipping fee, which is really a PayPal handling fee, as no tickets will be mailed.
Or mail a check for $35 per person made out to The Villagers, Inc. to 
Joan Bounds
3241 Riviera Drive
Coral Gables, FL  33134
* We will have a list of payees at check-in. No tickets will be mailed.  
*Sample Clue: In the good old days, you might stop at this place to buy a spool of thread, a pound of flour or a pair of work boots. 
Questions: Call Joanne Meagher at 305-753-5821
All proceeds go toward the preservation and protection of historic sites and scholarships.