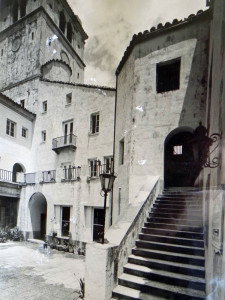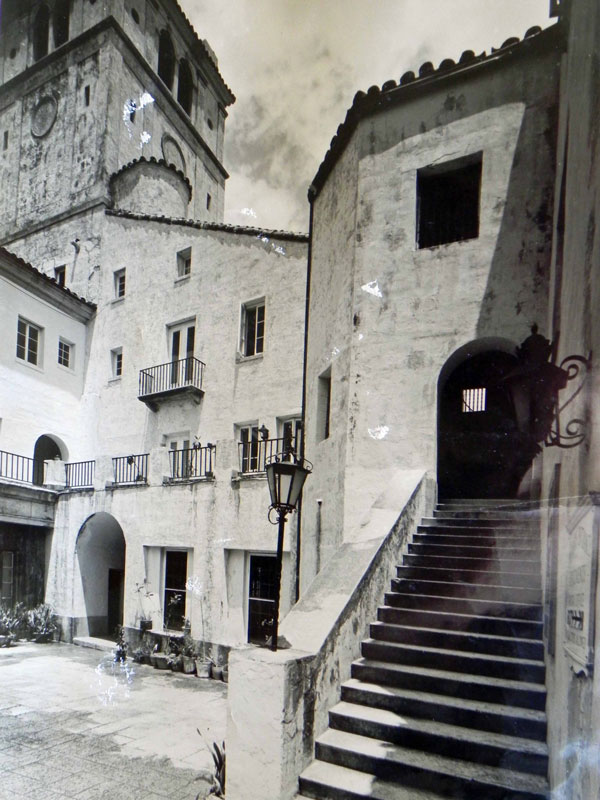 1966-1972
The Fight to Save the Douglas Entrance

The Villagers Incorporated was organized in October 1966. The Douglas Entrance was in danger of being demolished when the Douglas Village Corporation was formed to save and restore it. As a part of the initial restoration efforts, a group of wives of the stockholders of the Douglas Village Corporation got together as an auxiliary to do what they could to help. This group, joined by others, became the charter members of The Villagers. Early efforts included cleaning, painting, and chasing pigeons from the tower. The major emphasis was on refurbishing the elegant ballrooms. Events were held to raise money for restoration and to raise public awareness of the needs and benefits of preservation. The first fund-raising success was an all-day "Fiesta," when Coral Gables declared November 25th as "Villagers Day." Peruvian gold jewelry, other imports, craft and art items, foreign foods and decorator "mistakes" were sold and auctioned. The popular and profitable Monte Carlo Night was begun in 1968 and held at the Douglas Entrance for the first two years and at Vizcaya for the next three years.

1972-1973
Save the Biltmore & Vizcaya
1973-1974
Fund & Staff First Survey of Historic & Architecturally Interesting Sites
1975-1976
Outstanding Homes of Miami Published & Walking Tours of Coconut Grove
1976-1977
Seminar Series Held on "The History of South Florida"
1977-1978
Merrick House and El Jardin Restoration Begins
1978-1979-1980
Save the Alamo Campaign & Coloring Book
1980-1981
Restoration of the Old Larkin Schoolhouse and Work at Biltmore Property Escalated
1982-1983
Teaching Others How to Apply as Historic Site on the National Register
1983-1984
Number of Scholarships Expanded
1984-1985
First Historic Hunt Held
1985-1986
Work Begins on Historically-Oriented Cookbook
1986-1987
20th Anniversary
1987-1988
Cookbook, "Biscayne Bights and Breezes" Makes Its Debut
1988-1989
House Tour Becomes Pre-Christmas "Holiday" House Tour
1989-1990
First Themed Quilt Made by Members & Raffled
1990-1991
Membership Increased
1991-1992
Garden Tour Launched during 25th Anniversary Year
1992-1993
Undaunted by Hurricane Andrew, Preservation Efforts Thrive
1993-1994
Fund-raising Efforts Reach New Levels
1995-1996
$60,000 Grant for Lighthouse Keeper's Cottage + $40,000 Match = $100,000!
1996-1997
Video Produced: "Jewel in its Setting: A Visit in Time on Key Biscayne"
1997-1998
Building on Success, New Projects Initiated
1998-1999
Educational Grants Funded for First Time
1999-2000
New Members' Restoration Project a Huge Success
2000-2001
Garden Tour Moves to Saturday
2001-2002
Life Member Category Established
2002-2003
Historic Sites Survey Workshop Held to Train Volunteers
2003-2004
Nixon's Winter White House & Martin Luther King's Hampton House
2004-2005
Preservation Activism Takes Center Stage
2005-2006
Estate Gift Expands Scholarship Program
2006-2007
40th Year Marked by Award for Outstanding Preservation Organization
2007-2008
Grants Continue to Support Preservation & Scholarships
2008-2009
New Cookbook "Cook It Like a Native" Proves a Winner
2009-2010
Tremendous Fund-Raising & Multiple Honors
2010-2011
Fund-Raising Continues to Grow & Grants to Community Increase
2011-2012
First Ever Saturday House Tour
2012-2013
Ambitious Garden Book Project Launched
2013-2014
By-Laws Revised to be Gender-Neutral
2014-2015
Updated Website Launched; Ability to Purchase Event Tickets Now On-Line
2015-2016
"50 Years of Saving Places" Anniversary Celebrations