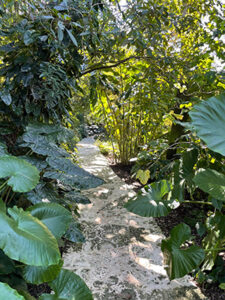 "REDLAND RETREAT"
MARCH 12, 2022 10AM – 4PM
Enjoy an exceptional educational and recreational experience!
Water and iced tea are provided and food will be available for purchase from  Rita Tennyson's R Catering. Among Coral Gables residents, Rita is famous for the burgers she served up at Burger Bob's. Burger Bob's may have closed but Rita's fame is spreading as this year's winner of the coveted judges' award for Very Best Burger at the South Beach Wine & Food Festival's popular Burger Bash.
INCLUDES:
Patch of Heaven Sanctuary, a 20-acre nature preserve, the recently expanded not-for-profit is dedicated to conservation, reforestation, and education. Members of The Villagers will be on hand throughout Patch of Heaven with insider details about the flora, fauna, and history of the area.
"Past visitors to Patch of Heaven will be pleasantly surprised by the recent expansion of the site as well as significant landscape enhancements,"
Plant Creations  – This nursery is not open to the public. Visitors will have the opportunity to purchase plants at wholesale prices. 
Tour-goers will receive a map to guide them as well as detailed information about landscaping highlights.
Back by popular demand, The Villagers' "Attic Treasures" vintage shop, along with a variety of vendors with unique garden-related items for sale.
Quilt Raffle – Purchase a chance to win a richly detailed and colorful handmade quilt "Pandemic Pandemonium in the Garden," designed as a tribute to the past 28 Villager Garden Tours and a refocus of our outdoor surroundings during the past two years. See details below
TICKETS:
Purchase in advance from Villagers' members
Online $50 (plus fee) CLICK TO PURCHASE
Day of Tour: At Patch of Heaven 21900 SW 157th Ave, – or – a

t Plant Creations 28301 SW 172

nd

Ave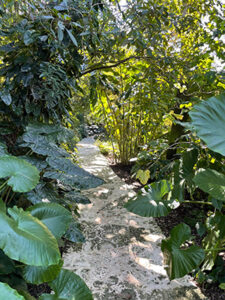 This is a no-smoking event and venues cannot accommodate wheelchairs, walkers, or strollers. Carpooling and comfortable walking shoes are encouraged. Food will be available for purchase.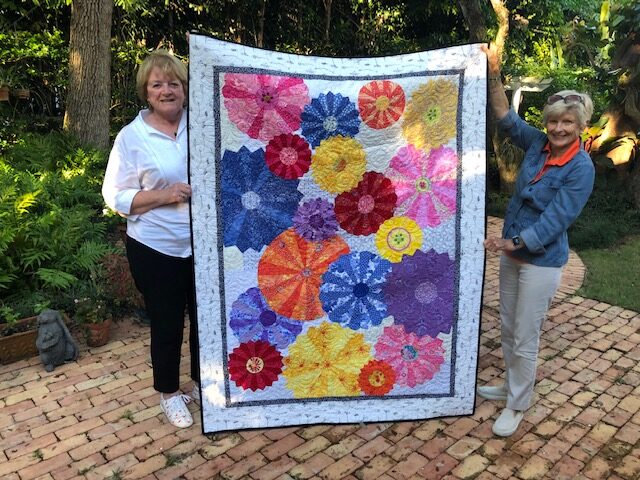 The image is a sneak peak of the 2022 Quilt currently in production.  Titled "Pandemic Pandemonium in the Garden", it is a tribute to our Garden Tours.   During the pandemic many of us turned to our gardens as we took more time to enjoy the outdoors.  Quilt committee chair, Louise Petrine, noted "spending more time in my garden I fertilized more and as a result, a lot more flowers, everywhere!  Thus, the title of the quilt.  Our gardens give us solace, inspiration and joy in being outdoors."
Members who participated in creation of the quilt were Joan Bounds, Jeannie Bunten, Barbara Burdette, Cathy Prentice, Susan Schmitt, Cookie Thelan, and Lilian Walby.  Martha Stockhausen made a beautiful label.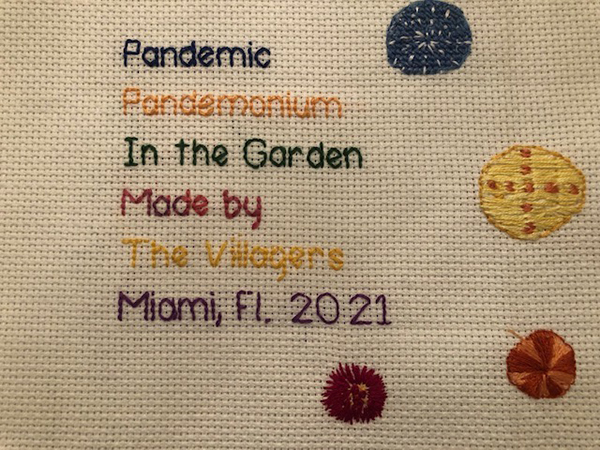 All proceeds go toward the preservation and protection of historic sites.
Views of Past Garden Tours