The Villagers Commitment Continues During COVID-19
These are most certainly challenging times. Our first and foremost concern is the safety of our families, friends, Villager members and supporters. Not far behind is our concern for the continued protection of historic sites in Miami-Dade County.
As someone who has supported The Villagers events and programs in the past, we want to share with you that behind the scenes The Villagers have been hard at work.  …. Click to View Full Message
The Villagers, Inc., commonly known as "The Villagers" is a not-for-profit organization dedicated to the restoration and preservation of historic sites in Miami-Dade County, Florida.
By educating, advocating, fundraising, restoring and documenting, The Villagers continue a 54-year tradition of service.
More than 150 local projects funded
75+ sites and organizations received grants
225+ university scholarships awarded to advance historic preservation 
Thousands educated through historic tours, workshops, and classes 
Launched Dade Heritage Trust and fought to save dozens of significant local sites
THE VILLAGERS & PRESERVATION
Formed in 1966, to save Coral Gables' iconic Douglas Entrance from a fate as a parking lot, the group capitalized on their success to save other endangered Miami-area sites. In the early years, members did much of the work hands-on, physically helping with restoration projects such as Vizcaya.  Members also provided the expertise to identify locally significant historic properties and help many be recognized by the National Register of Historic Places. Often seen as catalysts in the community, members have advocated on behalf of historic preservation. Significantly, after working to launch the Dade Heritage Trust, The Villagers funded the Trust's first project to survey local historic resources, identifying 875+ sites, many that would have otherwise been lost.
As the area's oldest historic preservation organization, the all-volunteer group includes more than 200 women and men in a variety of membership categories. The Villagers have no paid staff or facilities and monthly meetings feature interesting guest speakers and rotate among historic locations the group has supported. Funds for grants are generated from a variety of annual events and projects including a popular Holiday House Tour, Garden Tour, and Historic Hunt as well as proceeds from publications. The Villagers have received more than 45 awards and honors for their work preserving the areas' unique, colorful past.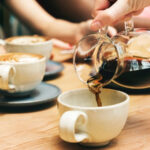 WE INVITE YOU TO BECOME A VILLAGER
We would love to invite you to join us for coffee and a delicious treat, to tell you more about becoming a Villager.  Sadly during these times we can't do that.  Instead, we hope you will take some time to view one or more of these brief videos to make you more aware of what it means to be a Villager.  We hope you will consider becoming an active member of our organization.
Video 1: Intro to becoming a Villager
Video 2: Villager committee chairs share inside stories
Video 3(Final): Explore Final Details About Becoming a Villager 
In her University of Florida Master's thesis, "Exploring the Hallmarks of a Successful Volunteer Preservation Organization," graduate student Kelly Perkins concluded, "The Villagers' impact on Florida's historic landscape is immeasurable."