The previous 5 years of history of The Villagers, Inc. is shown here.  Click here to view earlier history.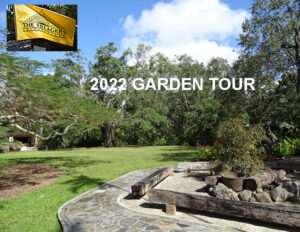 2021-2022   Transitions: Not Quite Back to Normal
Pandemic policies continued as the year began with Zoom meetings. Although work had begun in earnest on the House Tour, it was canceled for the second year due to a Covid surge. With lightening nimbleness, the organization segued into creative fundraising ideas and by early spring were, thankfully, able to host the 29th successful Garden Tour.
Anchored by more than $10,000 in donations from Give Miami Day, the group raised funds through a December Night of Lights at Pinecrest Gardens, a virtual art sale of donated works, Garden Book and angel sales at local events and Farmers' Markets, and the entertaining Gringo Bingo event sponsored by the Coral Gables Woman's Club, who generously shared revenue with The Villagers. A Gilded Age Lawn Party at Montgomery Botanical Center capped the fundraising season with guests attired in vintage white, surrounded by gourmet fare, sterling silver, and lawn games, on a perfectly beautiful spring Miami day.
The group managed to beat the odds, raising $65,000 to enable project grants of $45,000 and $10,000 for college scholarships. This year scholarship funds were split among two deserving architecture students. An additional major gift of $20,000 was received for use funding a future sustainable/green historic project.
The Saving Places/Education Committee launched a series of virtual education seminars that proved to be a huge success. The one-hour Zoom Lunch & Learn programs ran monthly at noon on a Wednesday and featured community-based experts and an interactive Q&A session. Speakers and topics included:  
Richard Heisenbottle, architect, "Restoration Before Demolition"
Harold Wanless, UM professor, Geological Sciences, "Impact of Sea Level Rise to Historic Places"
John Medina, architect, "Replacement Windows for Historic Buildings: Managing Compromise When Perfection is Out of Reach"
Hugh Ryan, specialist, historic preservation restorations, "Historic Properties Pros & Cons"
Nancy Liebman, author & preservationist, "Saving Art Deco"
2020-2021   Philanthropy During a Pandemic
In a time of crisis, Villagers pulled together, kept in touch, utilized technology, and creatively tackled fundraising challenges.
In spite of the inability to meet in person and the cancellation of the House and Garden Tours, much was accomplished "virtually."  The organization shifted into Zoom meeting mode and planned virtual events. A massive training effort led by the Technology Committee got members up and running on Zoom and familiar with the ins and outs of a new reality. Incredibly, as many as 70 signed on electronically for virtual general meetings, and board meetings and committee meetings were extremely well-attended.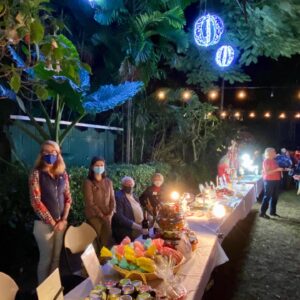 Programming quickly segued and wonderful, interesting speakers Zoomed into monthly General Meetings. By reactivating the very inspired Ways and Means Committee, more than $17,000 was raised. Because of careful stewardship in previous years, The Villagers were still able to fully fund programs. The Grants Committee selected 12 organizations to share $50,000 in funds and another $18,000 was awarded to 10 college scholarship winners. 
Fundraising efforts included a Virtual Art sale, Halloween "non-party", Holiday Raffle, and Give Miami Day. The Hunt Committee came through with a very successful Virtual Historic Hunt, not once, but twice, with themes "In the Age of Coronavirus" (June 2020) and "The Roaring '20s, the Era of Change" (March 2021) to celebrate the Miami of 100 years past.  On a beautiful, cool night in December, members and limited guests donned their masks and stayed socially distanced for a "live" fundraising event, a Night of Lights at Pinecrest Gardens.
Committees took advantage of available time and focused on systems and planning with enhancements to the website, development of a comprehensive graphics and editing Style Guide, updates to Bylaws, Policies and Procedures, creation of annual reporting templates, and other "back of the house" efforts.
A Friends of The Villagers Program was put together to enhance external fundraising, and the Saving Places Committee incorporated education as part of its purpose and began a survey of historic properties in Miami and Miami-Dade County to assess their condition. The Strategic Planning Committee was reactivated and went to work.  The introduction of Tuesday News minimized the volume of emails to members and also kept Villagers connected and entertained throughout the pandemic. The monthly newsletter was successfully rebranded "News & Views."
2019-20 From Record-Breaking Fundraising to Virtual Reality
Fundraising started off with a bang with the most profitable Holiday House Tour to date. Featuring homes in the Pinecrest area, "Inside Out – A South Florida Lifestyle" toured guests through five distinctive homes, raising more than $35,000.  The event was enhanced by the gift boutique, sale of Attic Treasures, raffle of the handcrafted quilt, "Biscayne Bay Regatta," and the sale of 200 unique handmade angels.
Give Miami Day was another record-breaker, with $5,000 donated, well over double prior years. Garden Book sales continued at a robust pace and meetings featured historic sites with interesting speakers.  The September meeting kicked-off the fall season at the Coral Gables Merrick House with four Villagers in period costumes channeling Miami pioneer women and their stories. Meetings were also held at the Coral Gables Congregational Church, Vizcaya Carriage House, Pinecrest Gardens, the Koubek Center, and Coconut Grove Woman's Club. Guest speakers covered updates about many local sites and the more unusual topic of "Filming on Historic Properties."
Members continued gathering for lunch following morning general meetings (with 35 at The Peacock Garden Café in February) and enjoying member excursions to The Wolfsonian Museum, History Ft. Lauderdale, Key Largo, and a Culinary Tour of the Miami Design District. Everyone embraced their inner flower child at the annual member appreciation party held at The Barnacle and honoring the 50th anniversary of Woodstock, complete with a vintage VW bus.
As the novel Coronavirus began to dominate the news, on a perfect spring day, "A 20/20 Vision of Tropical Splendor" Garden Tour featured a curated collection of five heritage gardens, all carefully created by homeowners in greater Pinecrest and Coral Gables. Another record-breaking fundraiser, the event generated $30,000.
Then the world stopped. Miami-Dade County went on lockdown and Covid-19 dominated. Villagers adapted quickly. The Technology Committee swung into action and meetings of all sort went on with Zoom. Members were trained and committees ramped up. Tuesday News became an essential way for members to keep up-to-date about projects and events, also providing pandemic tips and some much-needed laughter. The Historic Hunt went virtual, sold tickets online, and took participants on a 3-hour tour of Miami-Dade sites (all funded by the Villagers), with 25 tough questions. Even with a minimal $10 fee, $640 was raised.
Eight organizations shared $45,000 in grants and $12,000 was awarded for university scholarships. 
2018-2019 Fundraising Exceeds All Expectations
Members came together to plan and host very successful House and Garden Tours, beating all fundraising expectations. It gets harder with every passing year to find homeowners willing to allow their homes to be showcased to the public. Other fundraisers included the annual quilt raffle held during the House Tour, and silent auction held at the Historic Hunt. The sale of Christmas angels, art rental, book sales, and the popular member 50/50 raffle generated additional funds.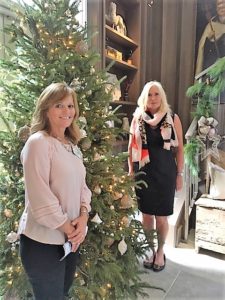 "Architectural Gems South of Sunset" was the theme of the House Tour featuring homes designed by notable architects and "A Kaleidoscope of Gardens" tour featured five private gardens in Kendall, Pinecrest, and Coral Gables. The theme for The Villagers' Annual Historic Hunt & Road Rally was "Larkin-about the City of Pleasant Living" held in South Miami followed by a fun and entertaining Western-themed BBQ dinner.
The Projects Committee awarded $50,000 to be shared among 11 local preservation ventures. Additionally, the Committee developed a contract for grantees to ensure compliance with concepts and details as awarded.
Members were treated to some wonderful historic programs during meetings including the hearing about the history of Bacardi, a visit to El Jardin at Carrollton School, a video about the history of the Deering Estate property, and a presentation on the history of the Coral Gables Congregational Church and its relationship with George Merrick. Special programs for members were exceptional with a delightful field trip to the Naples Botanical Garden, tour of the historic Spanish Monastery in north Miami-Dade, and an interesting Art Deco walking tour on Miami Beach. For the annual Holiday Party, the historic Coral Gables Congregational Church became a jazz club for the night.
Twelve college scholarships totaling $31,000, were awarded to outstanding students from the Miami Dade Design and Architecture High School, Florida International University, the University of Florida, and the University of Miami.
2017-2018 The Emergency Fund is Put to Good Use
After a summer of solid planning, Hurricane Irma swept in during September and altered the landscape in more ways than one. Thankfully members fared well, but Irma devastated the tree canopy of local cities, left piles of debris, and many suffered weeks without power. Irma also presented an opportunity for The Villagers to be first responders to the needs of the area's damaged historic landmarks. As a private organization, the group was able to act quickly and without red tape.
The Kampong, Vizcaya, The Barnacle, Tropical Audubon, The Barnyard Community Center, Dade Heritage Trust, and Montgomery Botanical Center all received immediate and crucial funding.
Fortunately, the homes scheduled for the annual December Holiday House Tour had come through the storm and the event went on, welcoming hundreds of guests as planned to six beautiful and distinctive homes in Coral Gables and South Miami.
New members enjoyed several social evenings with members as well as a member orientation. The group's holiday festivities were held at the historic La Palma Hotel in Coral Gables and members visited the Deering Estate for a tour, video presentation, and lunch.
Officers and committee members tried something very different for the annual Garden Tour.
Venturing to the far south of the County, in the Redland. Both gardens were featured in The Villagers'
Gardens of Miami
book and the tour to these two exceptional properties proved a huge success for hundreds of garden-lovers. It was a beautiful cool day with bright blues skies, horses, a barn, orchids, and wonderful vendors. It was magical. There was something for everyone.
Intrigued by the interesting history of the Redland, the group returned to the area for the Historic Hunt
"Road Trip Through Redland History"
and delicious BBQ dinner.
Twelve deserving students shared $35,000 in college scholarships; with all recipients having a special interest in historic preservation and restoration.