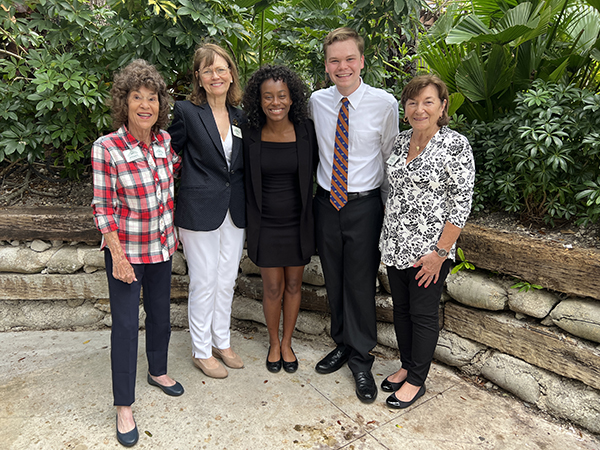 The Villagers awarded a total of $15,000 for scholarships to three deserving students with interests in architectural historic preservation. The students were each awarded $5,000. They were selected from a field of applicants based on scholastic standing, recommendations, samples of their work and statements of interest in preservation of past architecture.
Mary Beth Burke headed this year's committee, presenting the winners with their certificates. The committee also included Wendy Zepernick, Anne Boynton-Trigg, Laura Anderson, and Linda Manning.
The 2022 – 2023 Recipients are:
Sacha is an undergraduate in Architecture at the University of Miami who has been an A1A Student of the Tear nominee, on the Dean's list, the Provost Honor Roll and was a Canes Achievement winner, as well as a previous Villager Scholarship recipient. She is a native of Houston, TX, who plans on taking her love of historic preservation into the areas of restoration and adaptive use with an emphasis on affordable housing. Sacha wrote, "Adaptive reuse can address the local need for affordable housing and embrace the building's original aesthetic. Historical properties are physical reminders of the past that can give the community a sense of identity and pride."
Caleb Arsenault is working towards a master's degree as a student at the University of Florida. Caleb's educational journey was one of focus and determination that resounded with all our committee members. He started at St John's Community College, transferred and graduated from Flagler College in St. Augustine with a Bachelor's Degree in History. In one essay he wrote, "After graduation, I was fascinated with the idea of historic preservation as a field of its own. I purchased and read several great books such as A Field Guide to American Houses by Virginia McAlester which piqued my interest in applying my knowledge of historic research to the preservation of buildings and their histories". Caleb then entered the master's program in Historic Preservation at the University of Florida. He had an internship at the St. Augustine Historical Society and is currently participating on the survey and analysis of Opa Locka to have it added to the National Register of Historic Places.
Ms. Levy is a south Floridian currently from Delray Beach. Grace has been on the Provost's Honor Roll and Dean's List. Her first experience with historic preservation was focused on the development of vacant and underutilized lots in Wynwood Norte that would enhance the culture within the vibrant neighborhood. The process of deciding which lots were underutilized was long but rewarding. In the end, the project deemed most buildings worthy of preservation. Grace's second historic preservation experience was on the documentation of Coral Gables Congregational Church. As one professor stated, "She has a particular conception of architecture which is at once imaginative and rigorous. Her projects are characterized by a concern for tradition and, simultaneously, for innovation." This semester Ms. Levy is studying in Rome.