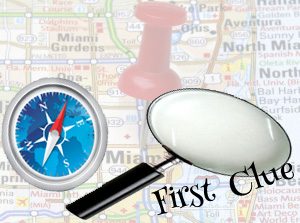 Road Trip Through Redland History
"Road Trip Through Redland History" was the theme that took Villager and community teams on a two-hour round-trip adventure beginning and ending at the Woman's Club of Homestead. Clues were answered at 10 interesting sites including the 100+ year-old Redland Farm Life School, Art Deco-inspired Seminole Theater (The Villagers donated funds to restore the iconic marque), and the pink St. Paul Missionary Baptist Church.
Hunters returned to The Woman's Club to enjoy a grand old-fashioned bbq catered by the good people at Whisk Gourmet.  Winners were announced and prizes were awarded.
Hosting Historic Hunts for more than 30 years, the Villagers have developed a reputation for creating laughs and good-natured team competition while exposing the little-known, often quirky side of local history.
Thank You to those who signed up for a team and supported The Villagers. 
All proceeds go toward the preservation and protection of historic sites and scholarships.
Watch this space for news about the 2019 Hunt, so you can plan to join in on the fun.